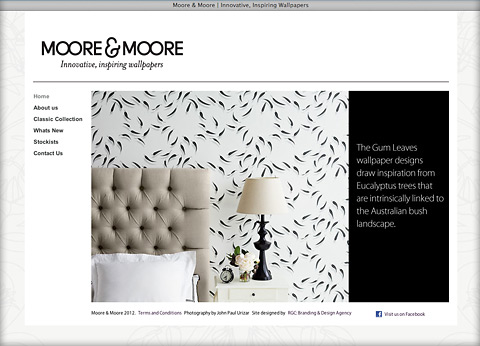 I just finished coding up a lovely site devoted to the most beautiful of wallpapers. Moore & Moore wallpaper. The site was designed by Rose @ RGC, a really nice clean design, totally in keeping with the quality of the wallpaper.
My favourite flower, is the Australian flannel flower, so I was completely taken by the flannel flower design, though the others are just as beautiful.
Established by former lifestyle journalist and marketing consultant, Lynne Testoni, Moore & Moore launched in 2010 with our classic collection. All our wallpapers are Australian made and designed, offering a uniquely modern and Australian twist.
Coincidently Lynne & I crossed paths before when she was head of marketing at BIG W. The site uses a lightweight JQuery slider and has a downwards compatibility all the way to IE 6, which is about as far back as anyone goes these days.
Anyhow, check it out »